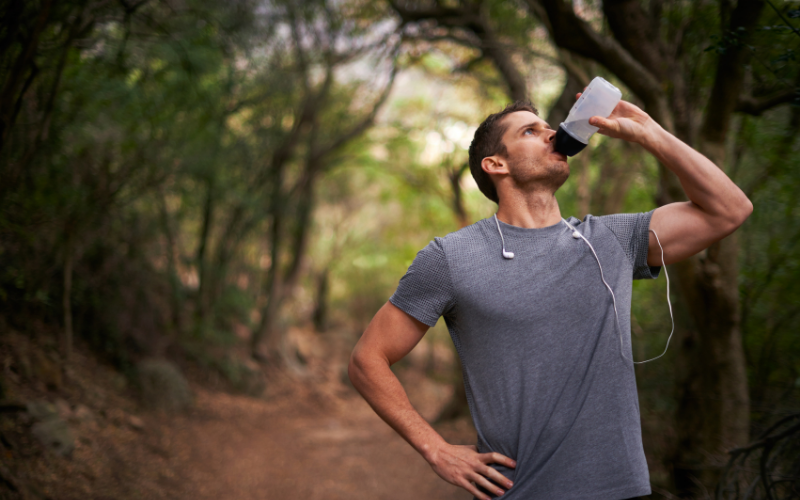 Hydration Goals for Training
Training is the ideal time to work towards a gold-standard race day nutrition plan, and hydration is a large part of this. Not only can we get more from our training through hydration, but we can teach ourselves to hydrate more effectively to get more from our race day performance. Here are some practical training goals to work towards.
Train your body to accept more fluids. We need to be flexible with our fluid aims for race day (mainly depending on environmental conditions) so use your training sessions to practice drinking higher quantities in case its warmer on race day. This is particularly important if you're training for a future event held in the summer months, or in hot and humid conditions. The good news is your body can adapt to take on more fluids, which will be helpful for race day performance. Start small and gradually build up the quantity and frequency of drinking.
Aim to start drinking 10-15 minutes into a long training session. This allows you to replace fluids and electrolytes lost in sweat and keeps you on the front foot in preventing fatigue.
Figure out how you will hydrate on race day and practice this in training. While race day aid stations are fantastic, for many of us they are too far apart to rely on as a complete hydration strategy. Try carrying bottles or hydration packs for consistent hydration and don't be afraid to take the time to refill these at aid stations if required. Often the time lost due to fatigue would be greater than actually taking the time to fuel efficiently at each aid station or along the way.
Learn what to drink when. There is no one size fits all approach to hydration, however there are some general principals to guide you. Water or PURE Low Carb Hydration is suitable for sessions up to one hour. Sports drinks (PURE Electrolyte Hydration) are designed for sessions longer than 60 mins or for high-intensity/hot/humid shorter sessions. Endurance drinks (PURE Endurance Formula) are designed for sessions 2 hours and over. Read our comparison guide here. Specialised recovery drinks (PURE Exercise Recovery) are most effective directly after training. Read our comparison guide here. 
Tune into yourself. Take note of how much you drink during training/racing and look for patterns in how you feel or perform. Obvious signs of dehydration are dry mouth, head aches or dizziness, fatigue and dark urine. Its well worth reflecting on your race day practices to help you plan and train accordingly for next time. Don't forget you can't rely on thirst as you're already dehydrating by the time you get this message. 
Written by sports nutritionist and PURE Sports Nutrition co-founder Marewa Sutherland (BappSc).
---