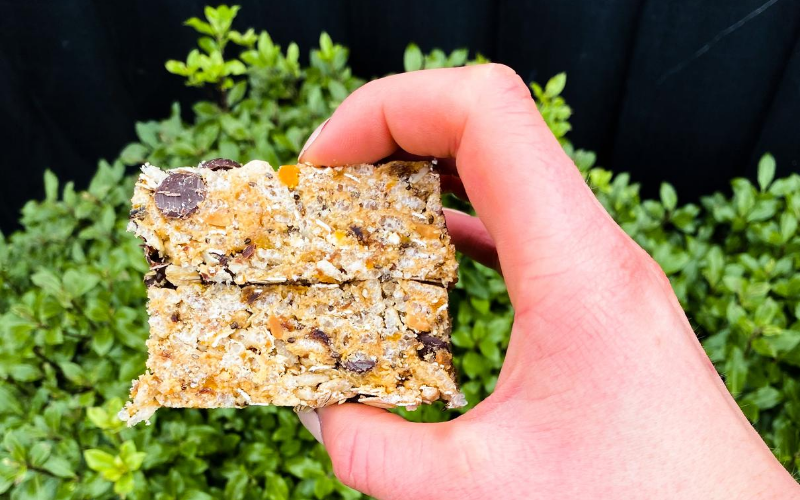 Rice & Oat Protein Bars
These rice & oat protein bars are ideal for use as food during a race, providing readily absorbed carbohydrates for energy and protein to assist working muscles. And they taste great too!
Ingredients
¼ cup sesame seeds
¼ cup sunflower seeds
1 pinch salt
½ cup chopped dates
¼ cup raisins
¼ cup dried apricots
¼ cup chocolate chips
½ cup rolled oats
3.5 cups rice cereal
½ cup liquid honey
¼ cup white sugar
½ cup peanut butter
½ cup PURE Whey Protein Concentrate (Vanilla)
1 tbsp vanilla extract
Makes 10 
Directions
Cook the sesame seeds and sunflower seeds in a dry pan, stirring until fragrant and toasted. Salt lightly, and set aside to cool.
Combine the dates, raisins, apricots, chocolate chips and the toasted seeds in the container of a food processor. Pulse to chop until small but not pasty. Transfer to a large bowl, and mix with oats and crisp rice cereal.
In a small glass bowl, mix together the honey, sugar and peanut butter. Heat in the microwave until bubbly. Stir in the protein powder and vanilla extract. Pour the peanut butter mixture over the bowl of cereal and goodies, and mix with a wooden spoon until everything is evenly coated.
Press the mixture into a greased tray using wet hands. Allow to cool and cut into squares.
 Nutrition content per serve:
360 Cal
51g carbohydrates
13g protein
13g fat
Recipe provided by Conrad Goodhew Performance Dietician (NZRD).  
Peanut Butter Protein Slice
Ingredients:
1 cup almond milk or soy milk
2 Tbsp maple syrup
1 cup peanut butter (it's best to use a good quality peanut butter that only contains peanuts and no added sugar/salt/preservatives)
2 cups raw oats
½ cup of

 

PURE Whey Protein Vanilla

 

or

 

PURE Whey Protein Chocolate
Method:
Turn stove onto medium heat, Put maple syrup, peanut butter and almond/ soy milk into a pot and place on heat.
Stir gently until all of the ingredients are combined (be careful not to let ingredients burn).
Add the protein powder to pot, mix well.
Add in the oats and stir. If the mixture is too thick you can add a bit more milk. Again, be careful not to let the mixture burn.
Once combined put the mixture into a flat baking tray and place in refrigerator. It's best to lay down baking paper first just so that the ingredients don't stick.
Once it has cooled completely chop into pieces and store in an airtight container in the fridge or freezer.
Optional – drizzle with dark chocolate for an extra sweet treat.
---