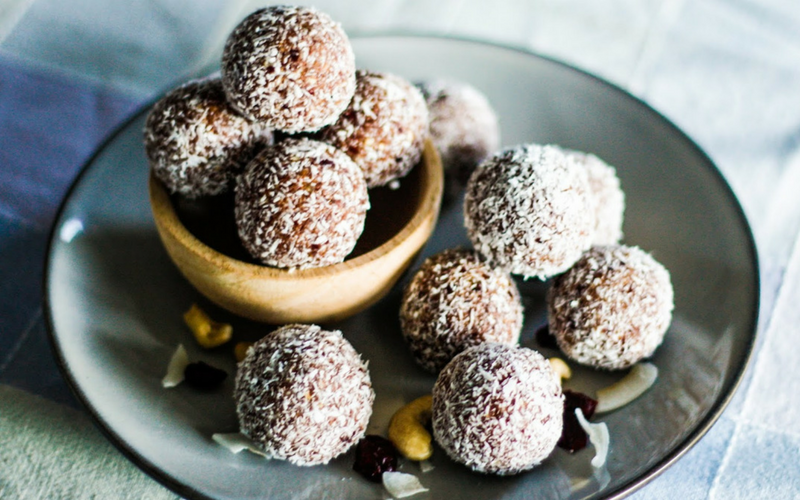 Mint Chocolate Protein Balls
100g almond meal
 3 scoops (one serve)

 

PURE Whey Protein Chocolate 
 2 T cacao powder
 3 T pure maple syrup
 1 t peppermint extract
 2 T milk of choice (I used almond milk)
 Desiccated coconut to coat
Mix all ingredients in a bowl (excluding desiccated coconut) starting with dry then wet ingredients.
When you've reached your desired consistency (not too wet but not too crumbly) roll into bite size balls before rolling in the coconut.
Set in the fridge in an airtight container to allow them to firm up and enjoy!
Store in an airtight container in the fridge for up to a week.
Makes approx. 8 balls.
Recipe by Millie Clark (Instagram @nutrition.with.millie)
Chocolate Fruit and Nut Balls
½ cup cashews
¼ cup PURE Whey Concentrate 

C

hocolate
½ cup dates
½ cup dried cranberries 
½ cup dried apricots
Dried shredded coconut (to roll the balls in)
Optional 1/3 large Chocolate Fruit and Nut Block 
In a food processor blend nuts and optional chocolate.

For chunky option set nut mix aside. For smooth add remaining ingredients. 

Add protein powder, dates, cranberries, and apricots and mix until a smooth. 

If nut mix was removed, re-add and stir in. Take small portion and roll into balls between your hands.

Roll in coconut and place on a plate.

Set for 1-2 hours in fridge and store up to 5 days in fridge.
Cacao Bliss Balls
2 C dates (soaked in boiling water for 5 minutes)
3 C rolled oats
3/4 C crunchy peanut butter 
1 C sunflower seeds 
2-3 T cacao powder
1 t cinnamon 
1 t vanilla essence 
apple juice as required
coconut for covering (optional)
Blend dates and rolled oats in a food processor until evenly mixed through.
Add protein powder, cacao powder, cinnamon & vanilla essence. Blend. 
Add peanut butter and sunflower seeds. Blend. 
Slowly drizzle apple juice in until mixture starts clumping. Test by making a ball and ensuring it sticks together. 
Roll into balls and cover in coconut. 
 Cranberry Protein Balls
3 C oat flour
2 scoops of

 

PURE Whey Protein Concentrate 
1/2 C Pic's Peanut Butter 
1/2 C rice syrup (or maple/honey)
1/4 C almond milk
1/4 C dried cranberries
2 T goji berries (optional)
1/4 C white Whittaker's Chocolate Lovers (optional)
Add rolled oats to food processor & blend till fine crumb

Add rest of ingredients apart from dried fruits/ chocolate if using
Blend until combined & doughy consistency
Mix in dried fruit & chocolate
Roll into balls & set in the freezer 
Makes 18-20
Recipe supplied by Hannah Romano aka "Coach Han" www.hanromano.com 
---