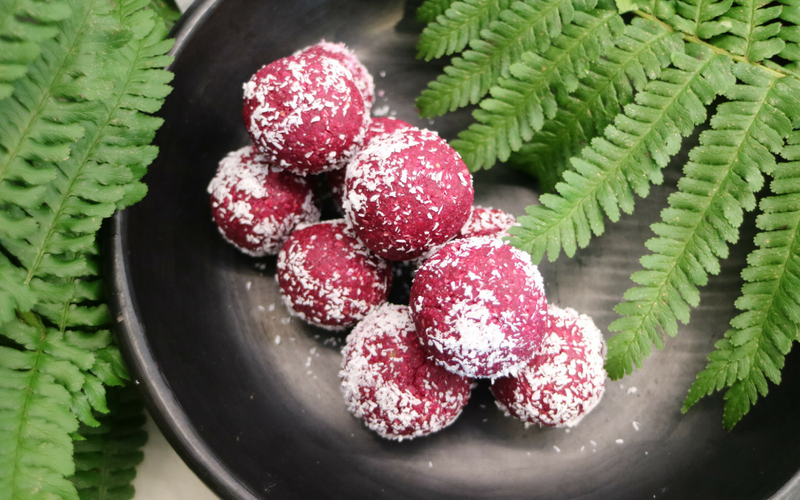 Jazz up Beetroot loading in the days up to your event with these tasty grab-and-go snack balls. Each serving of PURE Beet Endurance is 30g (3 lightly heaped teaspoons) so this recipe is designed for a few smaller snack servings throughout the day. 
Ingredients:
1/2 cup oats
1/2 cup seeds 
1/4 cup coconut 
6-8 dates
9 teaspoons PURE Beet Endurance
pinch of salt
Additional water
Coconut for covering 
Method:
Combine oats, seeds, coconut and dates in a blender and blend until the dates are mixed through (tip: to soften dates soak in boiling water for a few mins then drain)
Add PURE Beet Endurance and salt, blend through. 
Slowly drizzle additional water through until mixture goes from crumbed to sticky (test it by rolling a small ball and seeing if it sticks together) 
Roll into balls, cover in coconut (optional) and refrigerate (or freeze prior to travelling).
Recipe notes:
This recipe provides a total of 3 Beetroot loading servings and is designed for one person to snack on over a 3 day period. To adjust simply increase or decrease the amount of PURE Beet Endurance added to the recipe. 
Saliva is required for the natural conversion of Nitrates in your body so for best results we recommend savouring each mouthful and avoiding drinks while eating these balls. 
Enjoy : ) 
Related article: Beetroot in sport
---